By: CEO Wayne B. Brown, Aggressor Adventures
I am always delighted when I am on one of our liveaboard adventures and there are first-time liveaboard guests. Getting to spend a week or more with them and hearing their reasons for finally deciding to try a liveaboard, as well as any concerns that may have kept them from previously coming aboard, gives me so much insight into how to make our adventures more enjoyable for everyone.
The most common comment at the end of the liveaboard adventure is, "This is the way you go scuba diving!" While I may be a little biased in agreeing, it does take the enjoyment of exploring our underwater world up several notches. Setting up your gear on arrival and never having to repeat that is always at the top of everyone's list, and a close second is always being on top of or just a short tender ride from the dive site. Maximizing the time indulging your passion for scuba diving also has added benefits. One is getting to experience so many more underwater encounters and behaviors. Spending up to five hours or more a day underwater helps you check off all those wonders that you have read or heard about and added to your personal wish list.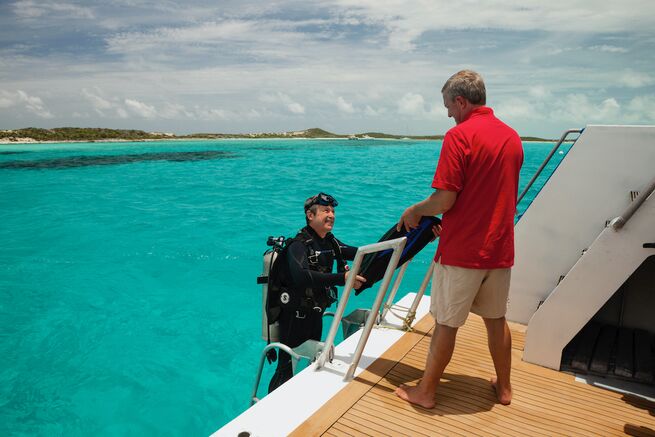 Being a confident, comfortable scuba diver also increases your enjoyment of your time underwater. Getting in 20 to 25 dives in six days definitely ups your skill level in all areas! This is also high on the list of reasons why some of our guests with just a few dives under their belt have chosen a liveaboard. It is so exciting to see their confidence increase even during the first day of diving and how much more relaxed they are for each subsequent dive briefing. Even for divers that have many dives in their logbook, being told they and their buddy have the freedom to dive their plan without following our dive guide sometimes gives them pause. If all they have ever done has been herded in groups, this freedom starts out a little intimidating until they realize how much they have been missing out on by exploring at their own pace.
You will also realize at the end of your liveaboard adventure that you have made lifelong friends with everyone you have been on board with, including the staff. I can even point to multiple marriages that came from chance meetings during a charter!
With the increase in awareness of Blue Mind Science and its many benefits to your health and well-being, there is no better way to restore yourself than spending a week on a liveaboard.
To book your first liveaboard trip, visit aggressor.com.