By: CEO Wayne B. Brown, Aggressor Adventures
Like many of you, I've heard every reason in the world as to why someone doesn't want to scuba dive. While every reason has its validity, many can be overcome with education, understanding, patience — and a Discover Scuba Diving course. This introductory course can be taken in a pool, off a beach or from a dive boat. The student learns the basic safety guidelines and skills in shallow water, all while under the watchful eye of a qualified instructor.
The reason I hear most often is "I'm claustrophobic." When I dig deeper into what they mean, it's usually a misconception that it's dark with very limited visibility under the surface. When I ask them about swimming underwater in a pool, they are perfectly fine with that. A lot of scuba dives may not be exactly like swimming in a pool, but warm, clear dives in shallow water are very close. Of course, they remain extremely skeptical, but getting them started with snorkeling almost always opens them up to consider Discover Scuba Diving when they can experience just how clear and sunlit the water is below the surface.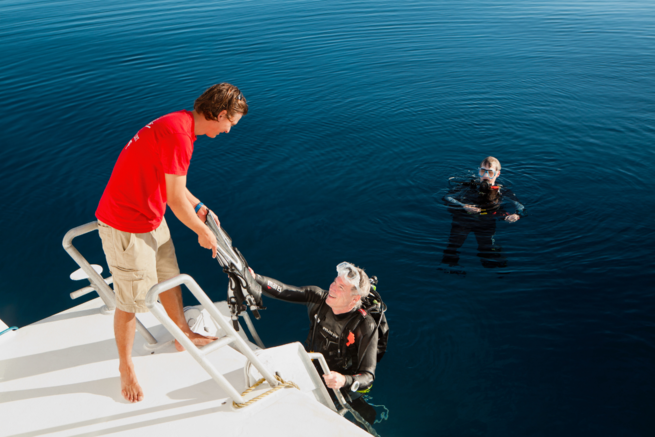 The second most common reason that keep people from getting certified is seasickness, and understandably so if you have ever experienced it. It's one of the most miserable experiences in the world if you're far from land and have to endure hours of it. Luckily, there are some remedies people can try to prevent seasickness, such as avoiding alcohol and heavy foods, staying hydrated, and taking a seasickness medication the night before. (Drowsiness is a side effect of many of these medications, so it's important to test the person's susceptibility to drowsiness before using one of these medications while diving.)
The investment in time and dive gear is another reason people say they can't commit to scuba diving. The major scuba certification agencies offer online learning, and virtually all the coursework is completed at your own pace and schedule. This has greatly reduced the amount of time spent away from work, family and weekend leisure activities. Renting dive gear is a more affordable option for brand-new divers. Dive shops around the world maintain a good selection of high-quality rental gear.
That brings me to the last point. I often hear, "I'm not comfortable traveling to a foreign country." As well-traveled scuba divers know most dive destinations are inviting and friendly. One of my favorite highlights when I travel internationally are the cultural exchanges that I have with the diverse and interesting people I meet. I always walk away having learned local greetings and customs and gaining a deeper understanding of just how much everyone around the world has in common.
I'm always looking for ways to help people overcome any concerns about scuba diving and getting to share the absolutely amazing underwater world we all love that cannot be replicated without the full immersion experience. Participating with your family and friends in the unique sport is a blessing like no other.