By: Kathryn Curzon, a shark conservationist and dive travel writer for SSI (Scuba Schools International)
Warm, blue waters, endless sunshine, and the world's best shark diving make the Bahamas an ever-popular liveaboard diving destination. But you might be wondering if this is the right destination for your next adventure. We've made it easy to decide with our round-up of 12 great reasons to go diving in the Bahamas. Spoiler alert – the diving there is second to none and suitable for everyone. Read on to find out more.
Go island-hopping among hundreds of idyllic islands.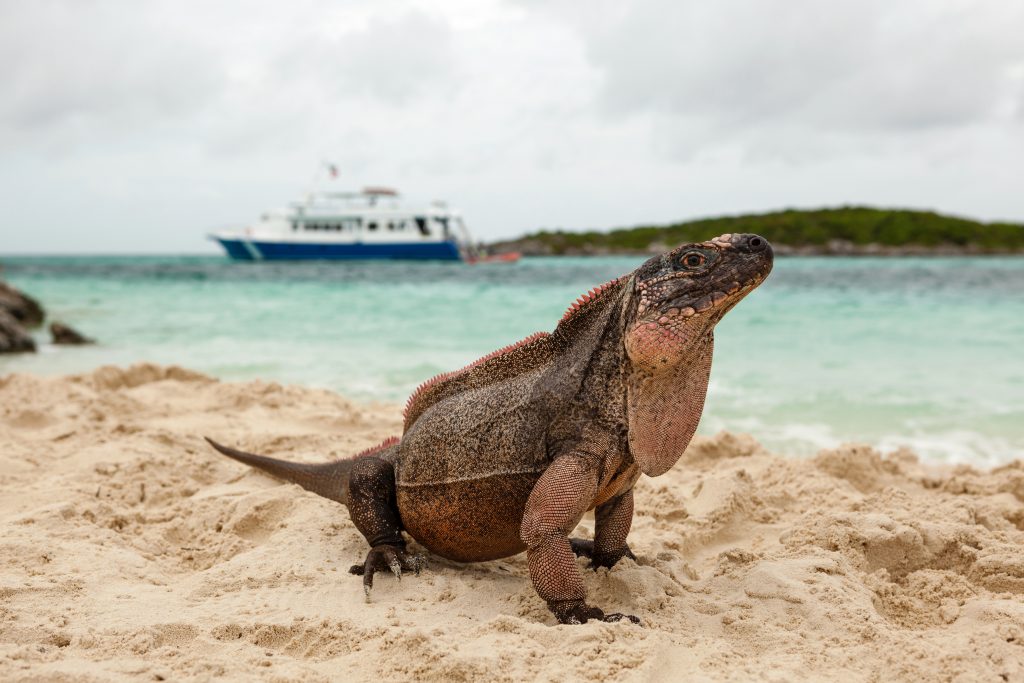 With almost 700 coral islands and 2,400 cays, the Bahamas is a perfect destination for boat diving and island hopping adventures. Stretching 760 miles from the Florida coast down to almost Haiti, the Bahamas hosts a wealth of diving opportunities and unique ecosystems.
Only thirty of the islands are inhabited, leaving the rest to nature. Typically, the islands are surrounded by soft white sandbanks, bright cyan waters, and – of course – the incredible dive sites this special country is famous for.
Whatever your dive preference, you'll find something there for you.
2. Experience the world's best shark diving.
In 2011, the Bahamas designated its entire territorial waters as a shark sanctuary. Thanks to this conservation-minded approach, the Bahamas hosts some of the world's best shark diving. If you like big marine life encounters, you've come to the right place.
Crystal-clear waters, shallow dive sites and a long list of iconic shark species, make the Bahamas perfect for diving with sharks. With bull, tiger, great hammerhead, lemon, Caribbean reef, oceanic whitetip, nurse sharks and blacktip reef sharks, there is nowhere quite like it for shark fans.
Tiger Beach is the place to go for diving with tiger sharks, as well as Caribbean reef sharks, lemon, nurse, hammerhead and bull sharks.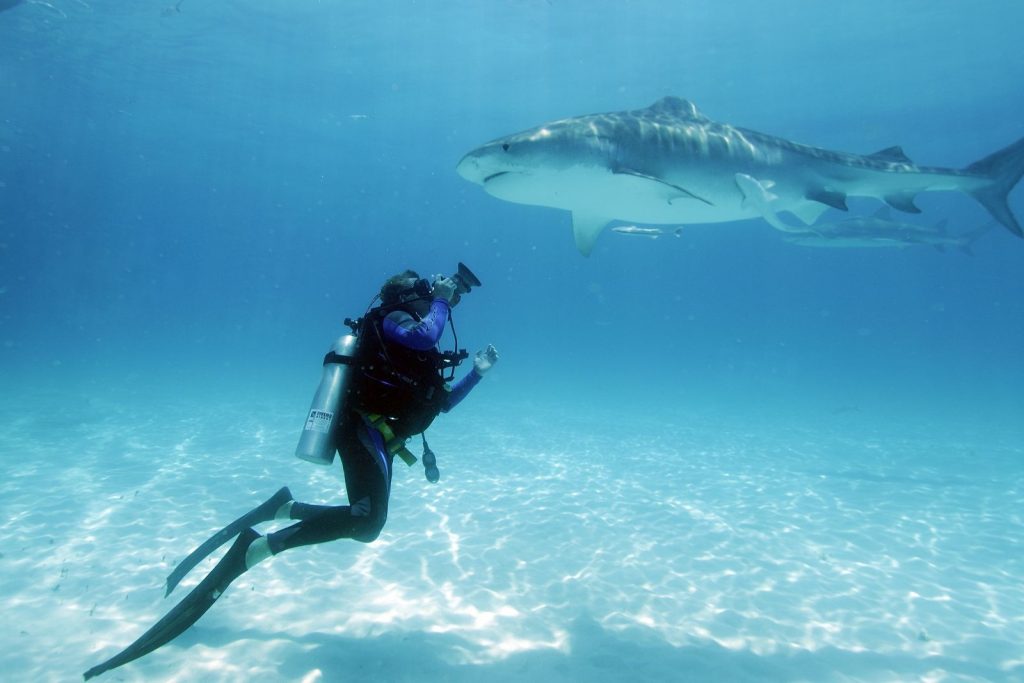 Cat Island is the best place in the world to swim with oceanic whitetip sharks and Bimini Island is famous for its great hammerheads.
Not a diver? No problem. You can also go snorkeling with sharks at Bimini Island, Cat Island and Compass Cay.
3. Explore lush mangroves teeming with life.
Whilst most people visit Bimini Island to go diving with hammerheads, a trip to Bimini's lush mangroves is also a must. They are important shark nurseries, where you can spot juvenile lemon sharks and laid-back nurse sharks.
The mangroves are also vital habitat for rare smalltooth sawfish, the Bimini boa and the West Indian flamingo, plus over 100 fish species and marine invertebrates. Make sure you leave time to visit this precious habitat on your travels.
4. Dive the famous James Bond wrecks and more.
Do you love wreck diving? The Bahamas scuba diving scene has plenty for you. First up, you can explore two wrecks made famous by James Bond:
The Vulcan Bomber from the 1965 movie 'Thunderball'.
The Tears of Allah from the 1983 movie 'Never Say Never Again'.
Besides being a geek-out experience for film buffs, the wrecks themselves are colorful, host beautiful marine life, and are relatively easy to dive.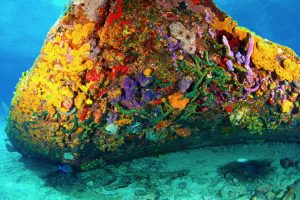 The Austin Smith in the Exuma Cays is the best-known wreck in the Bahamas and attracts divers from around the world. This 90-foot Bahamian Defence Force Cutter is in great condition and is a thriving artificial reef. This unmissable wreck hosts abundant fish life, plus sharks, eagle rays and sea turtles.
And if that's not enough to feed your rust addiction, there are numerous other wrecks to explore, including the Sugar Wreck and the ever-popular Hesperus/Turtle Wreck.
Turtle Wreck is consistently rated as one of the best wrecks for marine life encounters and earned its name from the numerous loggerhead turtles that flock to the wreck at night.
5. Discover the Bahamas' deep, dramatic walls.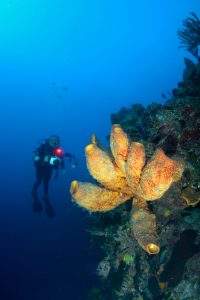 There are some jaw-dropping wall dives throughout the Bahamas, including those at one of the smallest islands in the Bahamas, San Salvador.
This diminutive island more than makes up for its size with everything from sheer walls to gently sloping walls dotted with cut-throughs and canyons. It is a playground for keen wall divers and the Great Cut dive site is one of the most popular there.
6. Swim with the famous pigs and piglets of Staniel Cay.
Yes, you heard us right. You can go swimming with feral pigs and piglets in the Bahamas. It's not your usual dive holiday experience but it is guaranteed to raise a smile.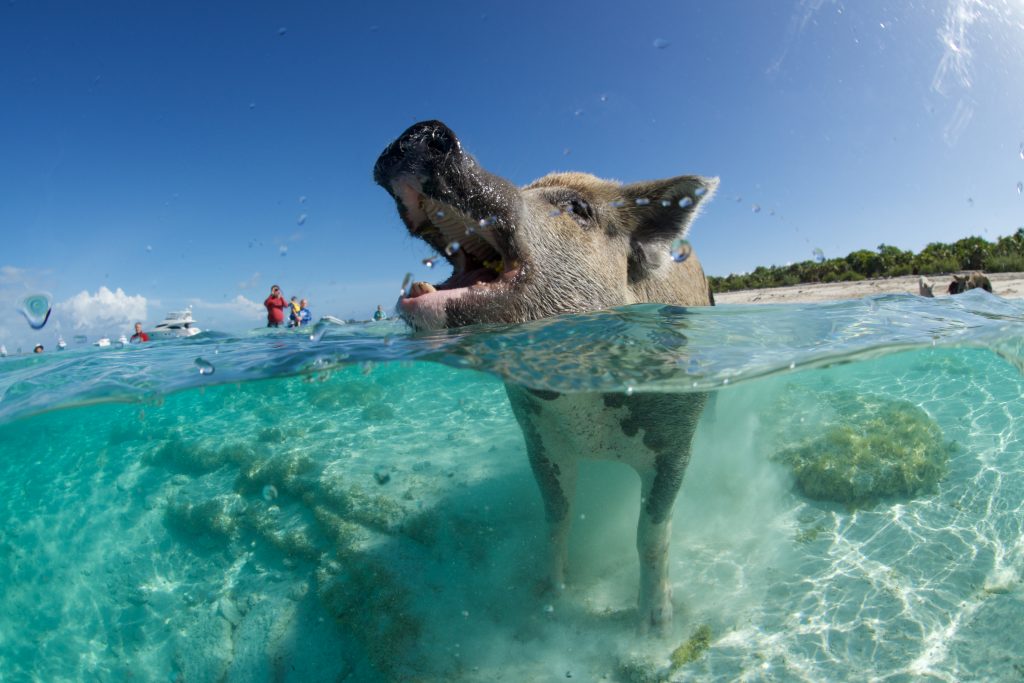 These famous swimming pigs are in the Exuma Cays, and nobody knows quite how they got there. That aside, swimming nose to snout with these adorable animals is a highlight of any Bahamas adventure.
7. Meet the world's oldest living fossils.
Have you ever heard of stromatolites? They are the oldest living fossils on Earth, dating back to over 3 billion years ago. Until 1959, they were thought to be extinct, but can be found in Shark Bay, Australia and at Stocking Island in the Exuma Cays.
These bizarre-looking macrofossils are believed to be one of the first organisms to create oxygen on Earth. The stromatolites at Stocking Island are thought to be the only ones that still exist in the open ocean.
8. Descend into jaw-dropping blue holes.
Diving in the Bahamas is synonymous with blue hole diving, most notably at the famous Dean's Blue Hole.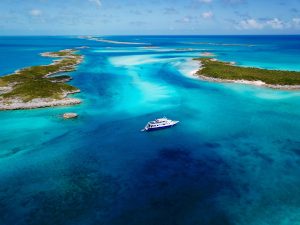 Andros, the largest island in the Bahamas, has more than 200 blue holes. These impressive underwater cave systems offer adventurous dives in warm waters, with plenty of marine life.
That said, the Lost Blue Hole at Nassau is our top pick of blue holes in the Bahamas. This natural hole in the ocean is around 100 feet (30 meters) across and plunges to over 200 feet (60 meters) deep.
Its rim sits at 40 feet (12 meters) deep and is an awe-inspiring sight when you descend down to the hole. It is surrounded by corals, stingrays and fish. During spring, a large school of blacknose sharks inhabit the bottom of this incredible blue hole.
9. Join adrenaline-packed current dives.
The Washing Machine dive site in the Exuma Cays is aptly-named and one of the most unusual drift dives in the world. The currents move so fast at this dive site that divers are tumbled about, head-over-heels through a cut in the reef. When the current eventually spits you out, you get to cruise over a gorgeous reef.
At nearby Eleuthera, Current Cut is another high-speed drift dive. Unlike when diving the Washing Machine, you'll be the right way up and can enjoy watching the reefs and marine life pass by with minimal effort on your part.
10. Hang out with laid-back nurse sharks.
The nurse sharks at Compass Cay Marina have featured on many a dive traveler's social media highlights, making them famous around the world.
These are dozens of nurse sharks at Compass Cay, cruising about in clear, blue waters and utterly accustomed to the presence of humans. Grab your snorkel or goggles, dive in and enjoy
11. Visit the stunning Exuma Cays Land and Sea National Park.
Established in 1956, the Exuma Cays Land and Sea Park was the first marine reserve in the Bahamas and covers a huge 455 square kilometers. It is breathtakingly beautiful, with secluded beaches, high species biodiversity, and an array of coral reefs, mangroves and seagrass beds.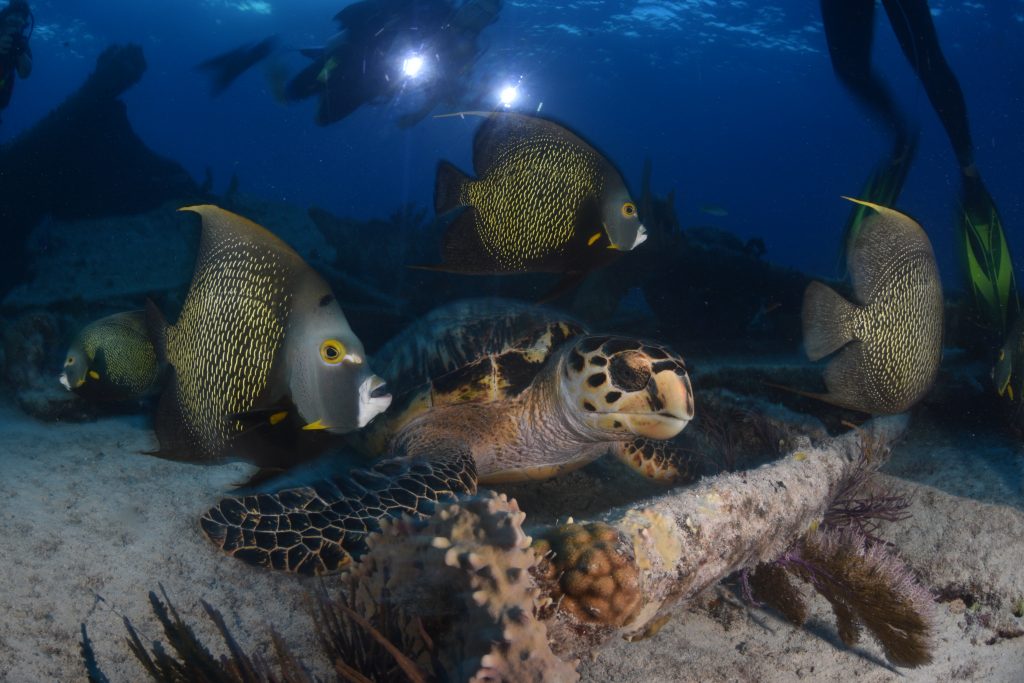 With over 250 dive sites to choose from, we'd be hard-pressed to choose our favorite dive sites in the Exuma Cays. But with walls, drift dives, thriving reefs, blue holes, wrecks and more to choose from, we're sure you'll find plenty of dive sites that you love.
12. Bahamas diving is suitable for everyone.
The best thing about diving in the Bahamas is that it is suitable for everyone! You don't need to be an experienced diver to enjoy this wonderful sunshine-soaked destination.
But if you want to experience the Bahamas' more advanced dive sites, simply complete your drift diving and deep diving certifications before you go.