By: Jimmy Summers
Just one year after our wedding anniversary, my husband, Ryan, and I started on our diving adventure to Roatan, Honduras for my 2nd liveaboard and his first ever. Traveling was a breeze flying from Atlanta into San Pedro Sula with a short 45 minute "puddle jumper" flight over to Roatan, the largest of the Bay Islands off the coast of Honduras. We arrived into Roatan one day prior to the charter start date for some R&R at The Clarion Suites Roatan at Pineapple Villas near French Harbor. Amenities at the resort included 2 famous restaurants, a world-class spa, complete health & fitness center (No thanks. I'm on vacation…), and private access to the beach. We ate at Herby's Friday evening which had a sports theme and nothing but cool vibes – very American.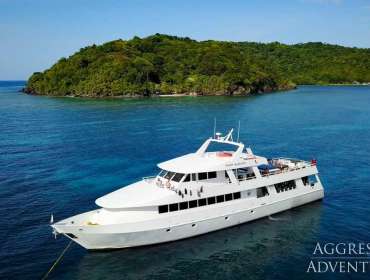 The morning of May 11th, we had breakfast at the Pineapple Grill with a full menu of options. We were overjoyed to get down to Romeo's restaurant located in French Harbor where the Roatan Aggressor docks. Arriving a few hours early prior to the 3pm boarding time, we took the time to tour the yacht as well as get familiar with the drinks at Romeo's restaurant. While enjoying our local beverages, we met and socialized with all of the guests arriving as individuals/small groups. We knew it was going to be a trip to remember with all of the fun and inviting personalities gathering at the dock. Captain Eddy and the crew made us feel right at home upon boarding and settling into our cabins. Our first meal on board was a delicious barbeque including tender short rib, grilled chicken, baked potato, and a caramel pineapple cake for desert.
Ending the first night on the "moon deck" with a glass of wine was everything we had been waiting for.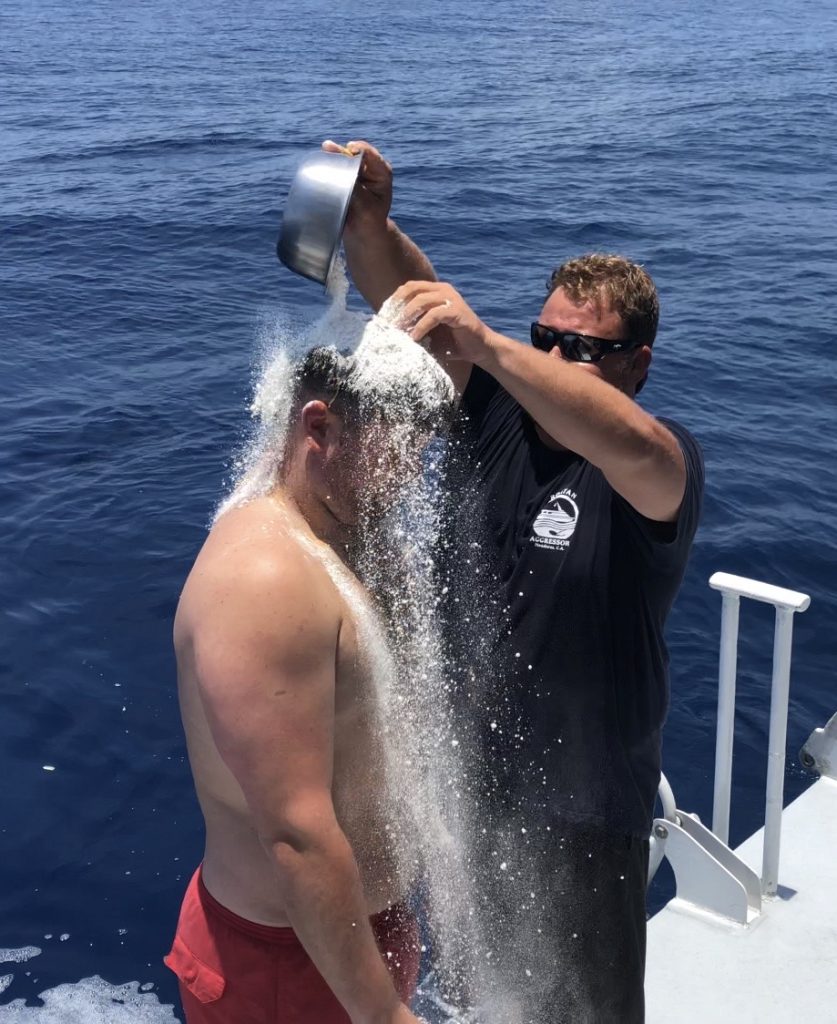 Ryan completed his SSI open water certification while on board. Dive instructor, Willie, even made him a cake! No, literally, Willie cracked an egg on Ryan's head, added some flour, and nudged him off the dive deck in celebration.
Diving Roatan was very relaxing. There are certain dive sites that are drift dives, so you just make yourself neutral buoyant and the current takes you.
Cayos Cochinos – Seamounts was my favorite dive by far. We drifted around the seamounts – two huge underwater mountains with no effort making it my longest dive at 57 minutes using Nitrox refills. The visibility went on forever (200ft easily) and it felt like we were in a giant aquarium. Just to name a few critters, we scored a spotted scorpion fish, arrow-crabs with their blue neon claws, tons of spiny and spotted lobsters, multiple pairs of white filefish, huge tiger & Nassau groupers. The dive masters also had us all on the hunt for the notorious lion fish to cage for a snack.
SHARKS! Cara A Cara dive site, is home to many Caribbean reef sharks. I cannot tell you how much adrenaline I had built up just from standing on the dive deck waiting for the words "GO GO GO" from the dive master during a "Live Drop". A live drop is performed with military precision where we are dropped right on top of the dive site, the yacht leaves, and picks us back up 45 mins later. As we went straight to the bottom and backed up to a small rock wall, the show immediately started. Sharks and groupers came in from all directions and you're just thinking "What did I get myself into?" It was exhilarating watching such beauty in its environment. We ended up witnessing 9 female Caribbean reef sharks with some measuring up to 11 feet in length. It was an incredible experience and I'd do it all over again.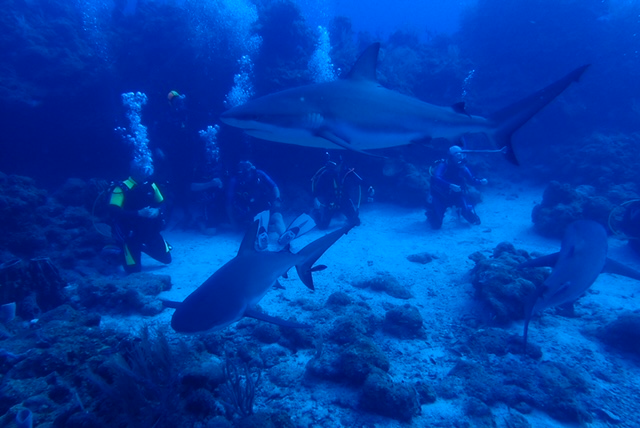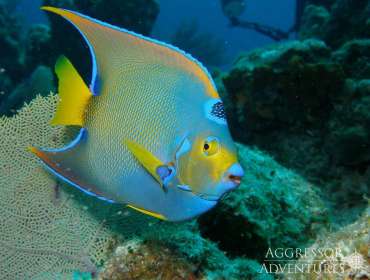 Just to name a few from our critter board, we got to see spotted eagle rays, long-snout seahorses, green moral eel, lettuce leaf slugs, leopard flatworms, blue grass shrimp, and plenty of black durgeon's.
Fun Fact: Roatan is home to the second largest coral reef in the world! The coral sea fans were the biggest I've ever seen.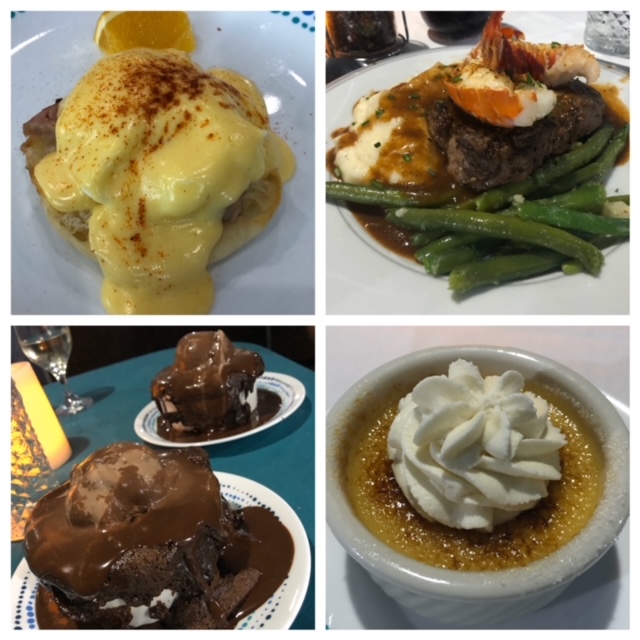 The cuisine on board was impeccable! The Sous Chef/Stew, Jana, always made sure we had plenty of snacks in our bellies between dives. Chef Milton was so humble and kind. All guests made it a point to cheer Chef Milton on for his food creations every night.
To end our stay in Roatan, Antony's Key Resort was the place to have one last day/night in a villa on the water. The grounds were lush with palms and tropical plants with gorgeous pathways to all villas. We stayed in villa #39 and the views from our private deck with hammocks were stunning.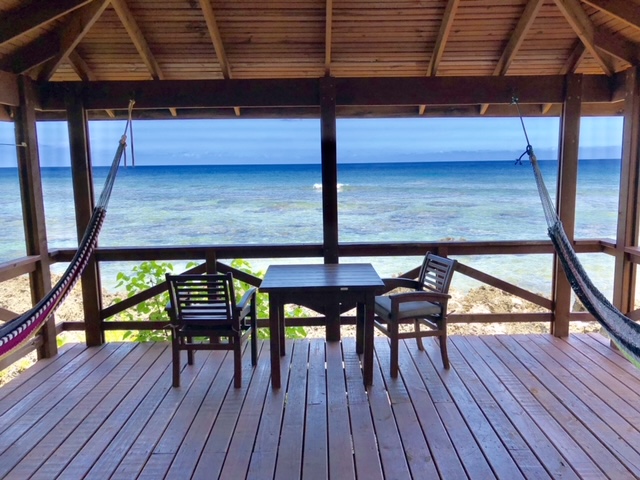 I feel so lucky to have been part of such an experience. We will definitely be returning on the Roatan Aggressor to blow some bubbles.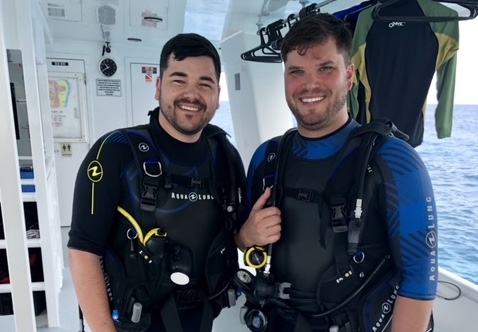 Aggressor Trip: Roatan Aggressor
Year: May 2018