By: Debbie Boone
As my husband and I flew over the turquoise water surrounding the Turks & Caicos Islands, our excitement was building for the week ahead. We had been on many dive excursions, but this would be our first liveaboard experience. Upon arrival at the airport in Providenciales, we were greeted by Alizee in her Aggressor Liveaboard dress whites. She escorted us to the spacious van that would take us to the marina. Once at the marina, we were met by Rob and Diekie who, due to low tide, transported us via the chase boat to the yacht. This was a unique way to get to our first sight of the 120' Turks & Caicos Aggressor II. Captain Amanda was waiting to welcome all guests aboard and when the 16 of us were assembled, we had a thorough safety briefing followed by dinner. Sarah was the chef for the week. Notably, her homemade soups were absolutely fabulous and heartedly welcomed during lunches.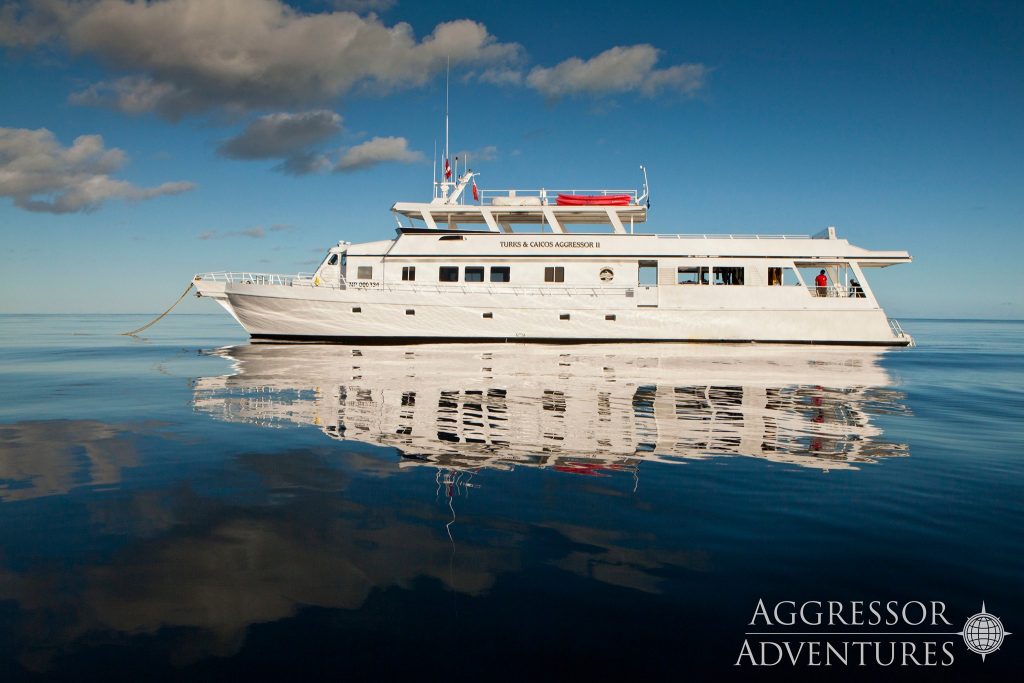 A superb perk of Aggressor Liveaboard diving is only having to set your gear up once. We had our own spots with hangers for wetsuits, etc. and personal lockers for all our other gear storage needs. Stateroom accommodations were comfortable with a double bed on the lower bunk, a twin upper, and private bathroom. We were treated royally with welcome gifts upon arrival, nightly turndown service and candies on our pillows.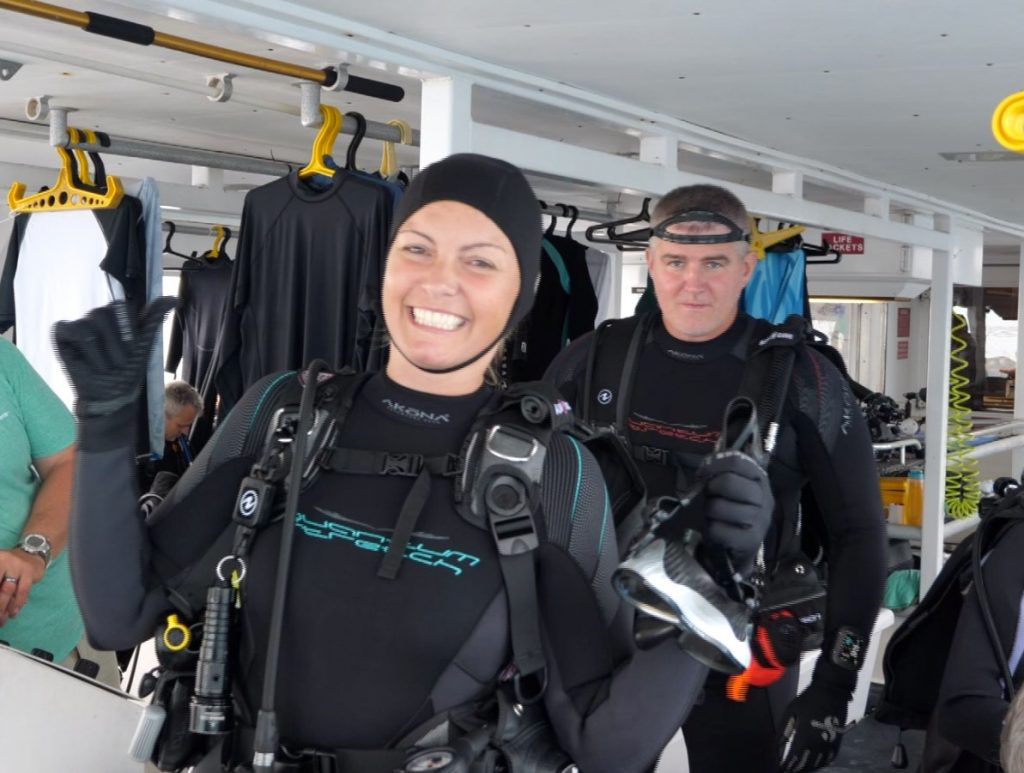 Our mantra for the week truly was "Eat, Sleep, Dive, Repeat".
Now for the diving…it was out-of-this-world! Air temps ranged from 80-84 degrees with water temps around 82-83 degrees, and water visibility ranging from 60' to 100'. I was able to comfortably wear a rash guard during the day dives and a full 3mm wetsuit for the night dives. The walls of Turks & Caicos are mesmerizing, and I often found myself looking off into the great blue hoping to see some ancient creature swim by. There were plenty of sites with fun, descriptive names like The Dome, Boat Cove, Spanish Anchor, Magic Mushroom, Elephant Ear Canyon, and Sharks Hotel. The resident reef sharks followed us throughout. We also saw an abundant variety of fish, turtles, eagle rays, spotted and green moray eels, garden eels, nudibranchs, flamingo tongues, and much more. Rob and Alex were ready with their cameras and shared some great photos they captured throughout the week.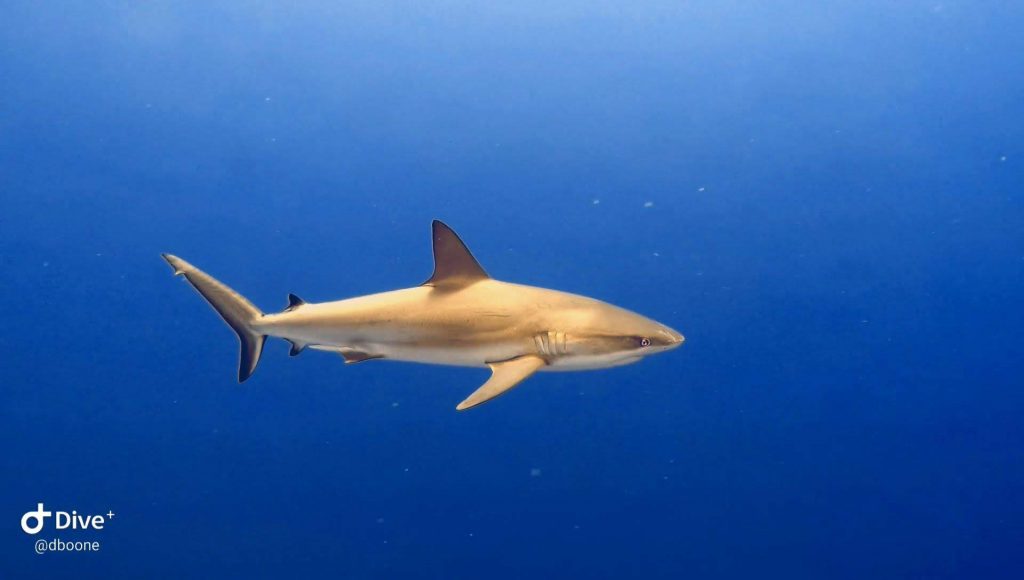 The most memorable of the dives was the night dive at The Dome (a unique underwater location to an old tv show set). Under protection of the marine park from fishing, the clinging crabs, lobsters, slipper lobsters, eels, and horse eyed jacks were some of the biggest I have ever seen! On another one of the night dives, we took advantage of the "try-fluoro" diving class. Rob lead the way as we donned protective lenses over our masks and used special lights in search of UV reflective critters. The decorator crabs really stood out and popped in fluorescent orange colors. The corals glowed neon green, yellow, and pink – an awesome experience not to be missed. After each evening dive, hot chocolate with Turks & Caicos cream was offered as a special treat. Yum!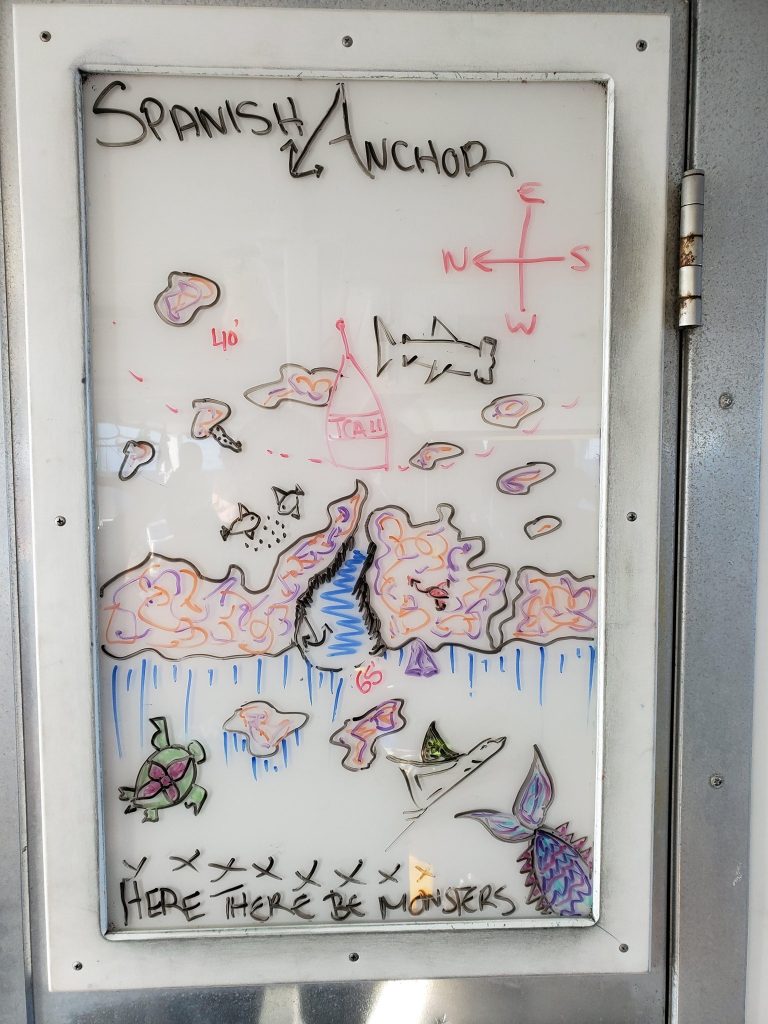 The safety stops couldn't be better. Yes, that's right! The hang-bar suspended at 15' is a perfect place to "hang" out to do your safety stop. The fun part was as the yacht swung around the mooring buoy propelled by the current, you could get a gorgeous panoramic view of the sea floor. As a bonus treat, after exiting the water and back on deck, you were wrapped in a nice toasty towel.
On the last night, during the champagne reception, Captain Amanda recognized those guests who had reached special milestones with personalized certificates. One guest reached his 1000th dive! The highly anticipated Iron Diver medals were also handed out to those who completed all 27 dives that week, a fun challenge my husband and I were happy to have accomplished.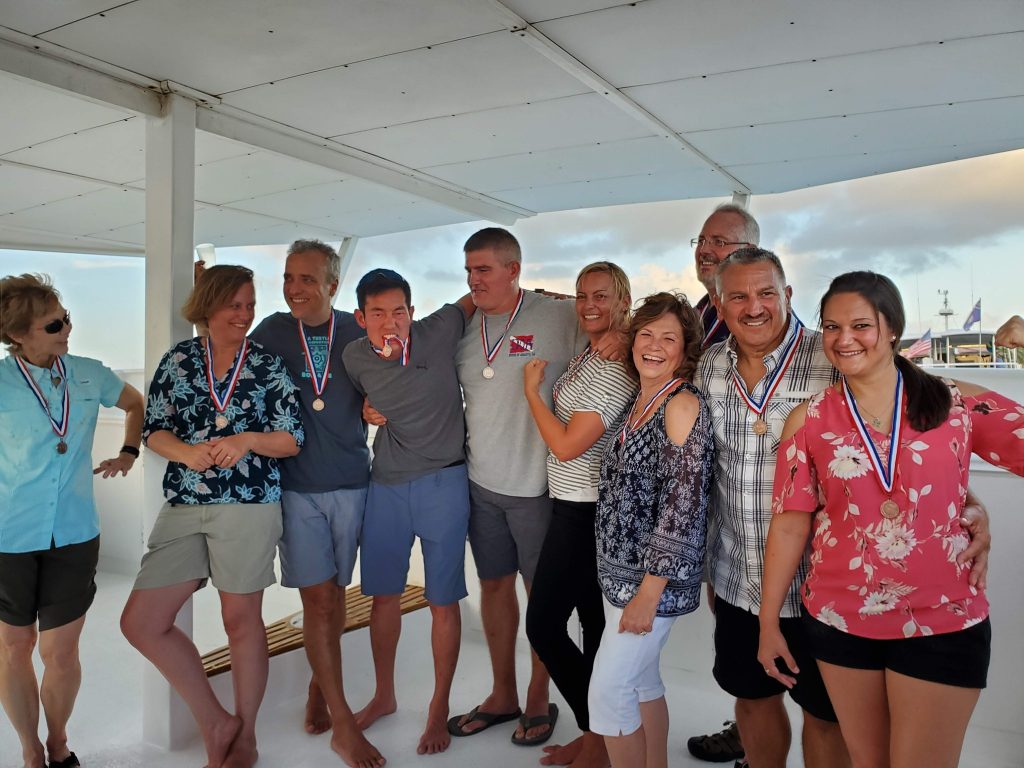 From the stellar diving, getting to know the staff with their excellent customer service, and meeting the other guests, each holds a unique place in my memory. I am eagerly looking forward to my next of hopefully many more adventures with Aggressor Adventures.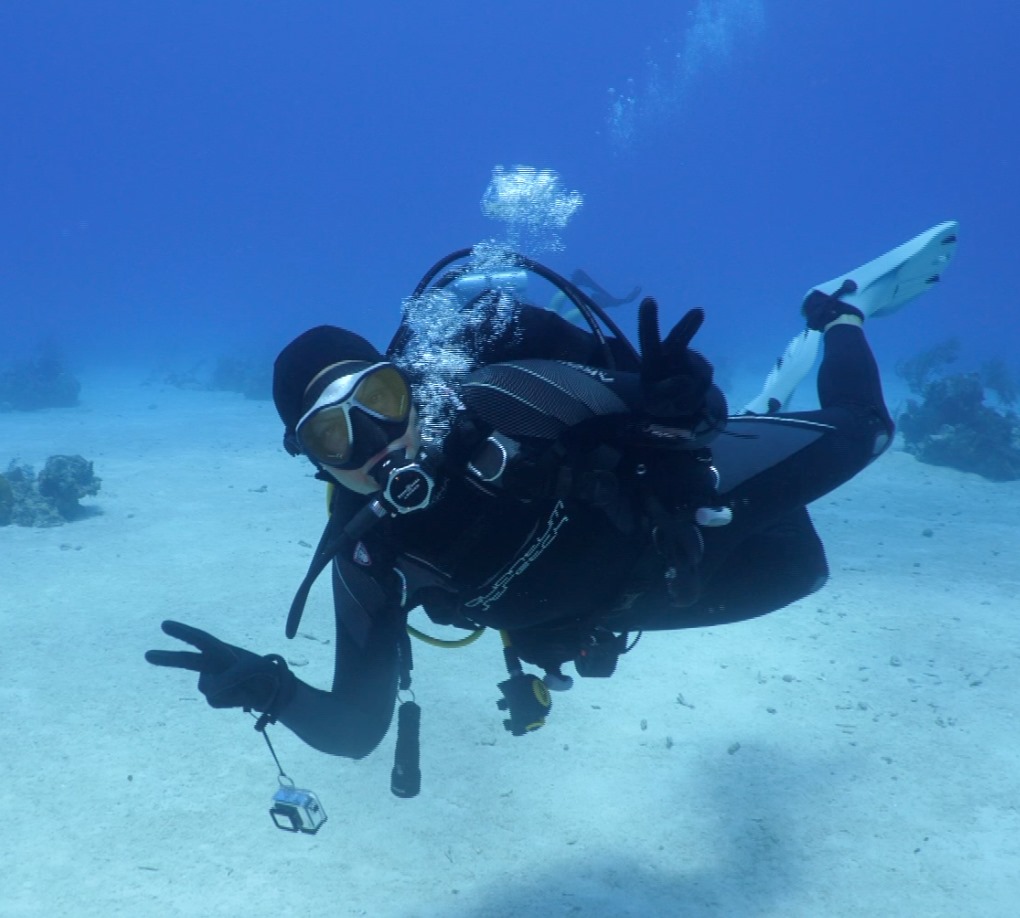 Turks & Caicos Aggressor II, July, 2019