By: Cole Watkins, Director of Content Strategy
Preface
When I met my now-wife, Ashley, at Augusta State University in 2010, I had no idea what Aggressor was and had no interest in Scuba Diving out of my fear of sharks. Little did I know my world was about to get flipped upside down. In 2014, Ashley & her father, CEO Wayne Brown, convinced me to give diving a try. After a few pool sessions, I was joining their family on a plane to the Bahamas to get certified at TIGER BEACH! For those of you who don't know, Tiger Beach is like the Caribbean mecca for sharks; thanks, Wayne. And yes, I know what you are thinking, YES, it defiantly felt like a test! After counting over 50 sharks and one huge Tiger on this trip, I was now in love with these creatures and this hobby. Later that year, Wayne asked me to come work for Aggressor Adventures in their Marketing Department.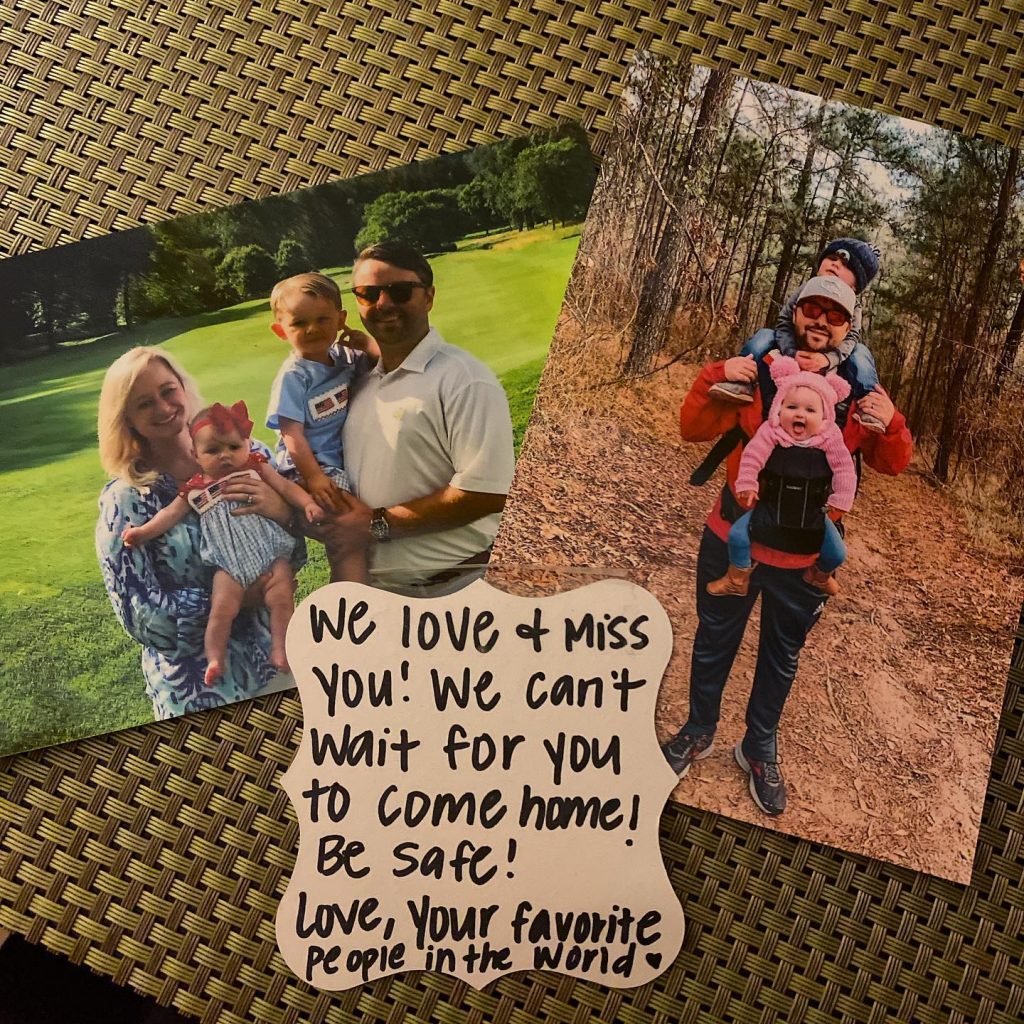 Fast forward to 2020 (before the mess)! I am married with two beautiful babies, been on 6 Aggressor trips (sporting 3 Iron Diver Medals), literally hundreds of videos made, and joining Wayne on a Dive With The Owner Charter aboard the Maldives Aggressor II. I was very excited about this trip for many reasons; it was my first diving outside of the Caribbean, I had great probability to see mantas & possibly a whale shark, and I couldn't wait t0 delve into the local culture in a country that is nearly 10,000 miles away from home; by far the furthest I have ever traveled.
A week before our departure, Wayne had to have an unexpected appendectomy. Though he was ready to continue with the trip, his Doctor advised against it. I was disappointed he wasn't able to attend, but I knew this was a great opportunity for me to meet the customers face-to-face and represent Aggressor Adventures on this charter.
Taking Flight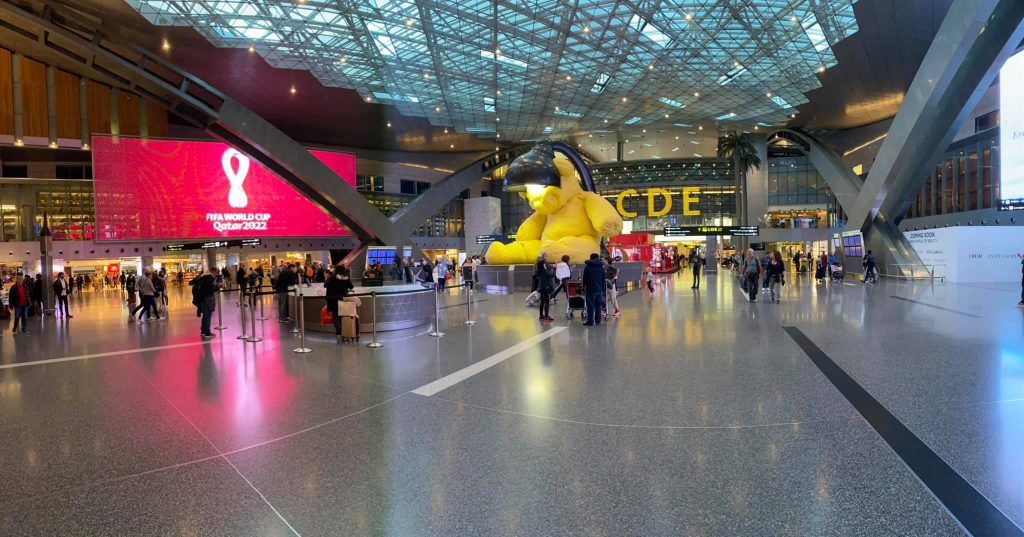 Now on to the trip! I flew Qatar Airways for 16 hours from Atlanta to Doha International. This was not as bad as it sounds if you can sleep on a plane. I found the meals and service on Qatar Airways to be very pleasant. The Doha Hamad International Airport felt more like a giant luxury mall than an airport. There were many shops, restaurants, spas, and hotels in the airport. I wanted to see it all but had to get some shut-eye before the trip began. My next flight was a 5 hour ride over to Malé International Airport. Flying over the turquoise waters of the Maldives was better than any movie you could have on and touching down in Malé I could finally exhale and start to explore with my one day in the Capital of the Maldives.
Exploring Malé was very interesting and felt different than any other city I've been too because everything is so tightly compact. The first thing you discover in Malé is the abundance of people and scooters. With a population just over 133k and an area of 3.5 square miles, it is considered the 22nd most densely populated city in the world. The country is 100% Muslim, required by law. They have some very strict rules including no alcohol.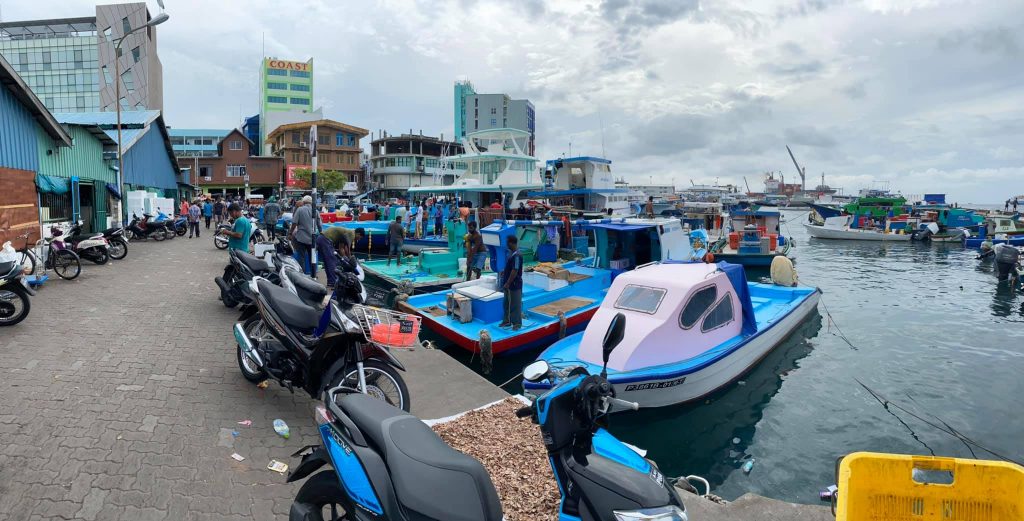 I along with a few others on our charter, stayed at the Sala Boutique Hotel in Malé which I found very quaint. That evening we enjoyed some of the most delicious Thai food inside the hotel. I still have cravings for the "Gai Him Ma Pan" which is a spicy stir-fry with chicken, roasted cashew nuts, onions, carrots, dried chili in a homemade chili sauce. Delicious, I definitely recommend!
Up first thing in the morning for a quick bite and 1 hour flight to Laamu Atoll to board the beautiful Maldives Aggressor II for this 7-night Southern Hemisphere itinerary. The MA2 offers three different itineraries with a variety of different length charters and start and finish atolls. My particular airport, Kadhdhoo, has a dock where the spacious and fully equipped 60ft, 28 passenger dive dhoni is waiting for you.
To The Sea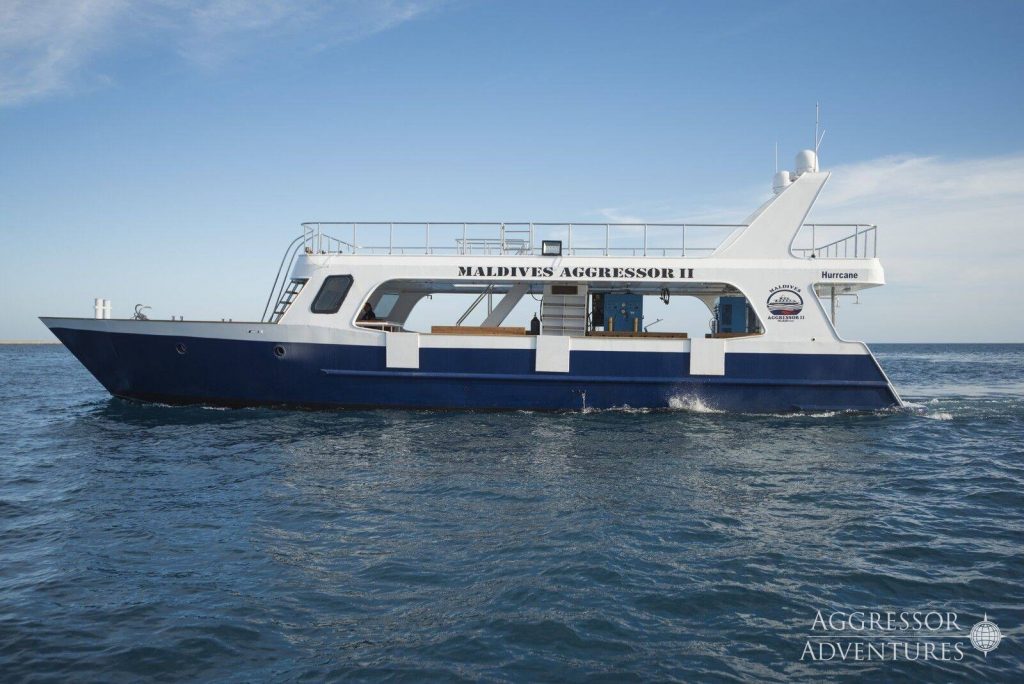 As if Aggressor diving didn't already spoil you, get ready to take it to the next level. The best way to help you understand this dhoni, is think of the best skiff ever and put it on steroids. All dives are done from this vessel making it very easy to separate your dive gear and everything else from the two separate vessels. Dhoni for diving, MA2 for eating, sleeping, and camera prep. As you board the dhoni, you are greeted with friendly smiles from Aray, Alam, & Shojib which are your dhoni crew. They help you set up your dive locker/station on the drive over to the mothership.
Once you pull up to the mothership you are in sheer "awe" of how massive and beautiful this liveaboard is.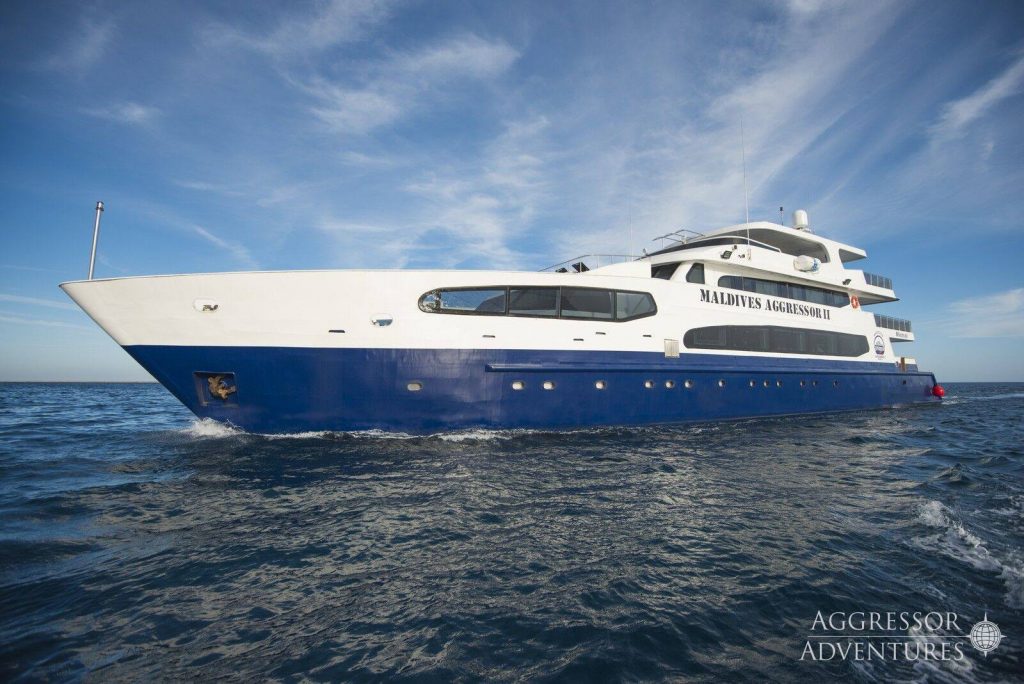 Fourteen more crew member make their way out from all levels to welcome you aboard with waves and "hello's". The four-deck yacht is 135 ft in length with a 28 ft beam (width). It sleeps 22 passengers and 17 staff comfortably. The cabins are on the larger side compared to other liveaboards I have been on; Of the staterooms:
6 Twin Staterooms on the lower deck at 15' x 13'.
4 Deluxe Staterooms on the upper deck at 15' x 11' with a large picture window.
1 Suite Stateroom on the main deck at a whopping 22' x 15' with panoramic window! The largest cabin on any Aggressor Liveaboard!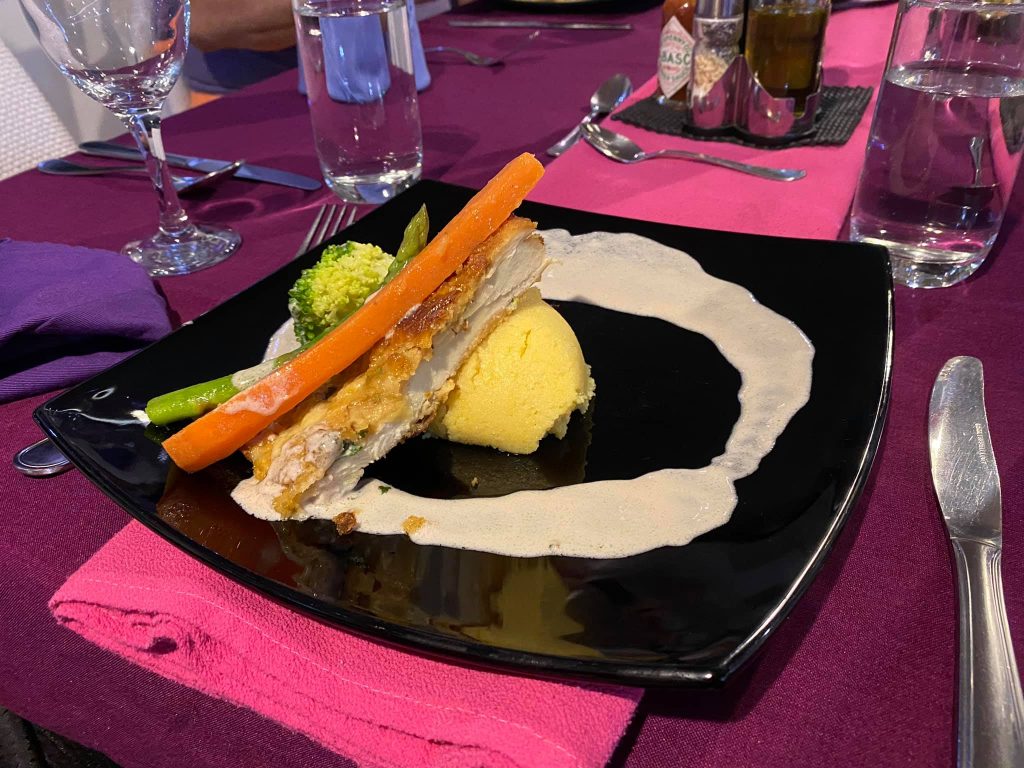 As soon as everyone had arrived, we all convened in the Salon to meet the crew and hear the Safety Briefing from our Cruise Director, Tony. After that we finished the first of many delicious meals from Chef Isuru and Sous Chef Kasun. Everyone was off to an early bed as we had guests from all over the world including Taiwan, Austria, California, Texas, Oklahoma, & Georgia.
As soon as we hit the water, we had great action and encounters! I enjoyed seeing the variety of fish and sea creatures that I've never seen. As I mentioned before, I am huge shark fan now. I was able to dive with a handful of new sharks during this trip including oceanic black tips, silver tips, and white tips.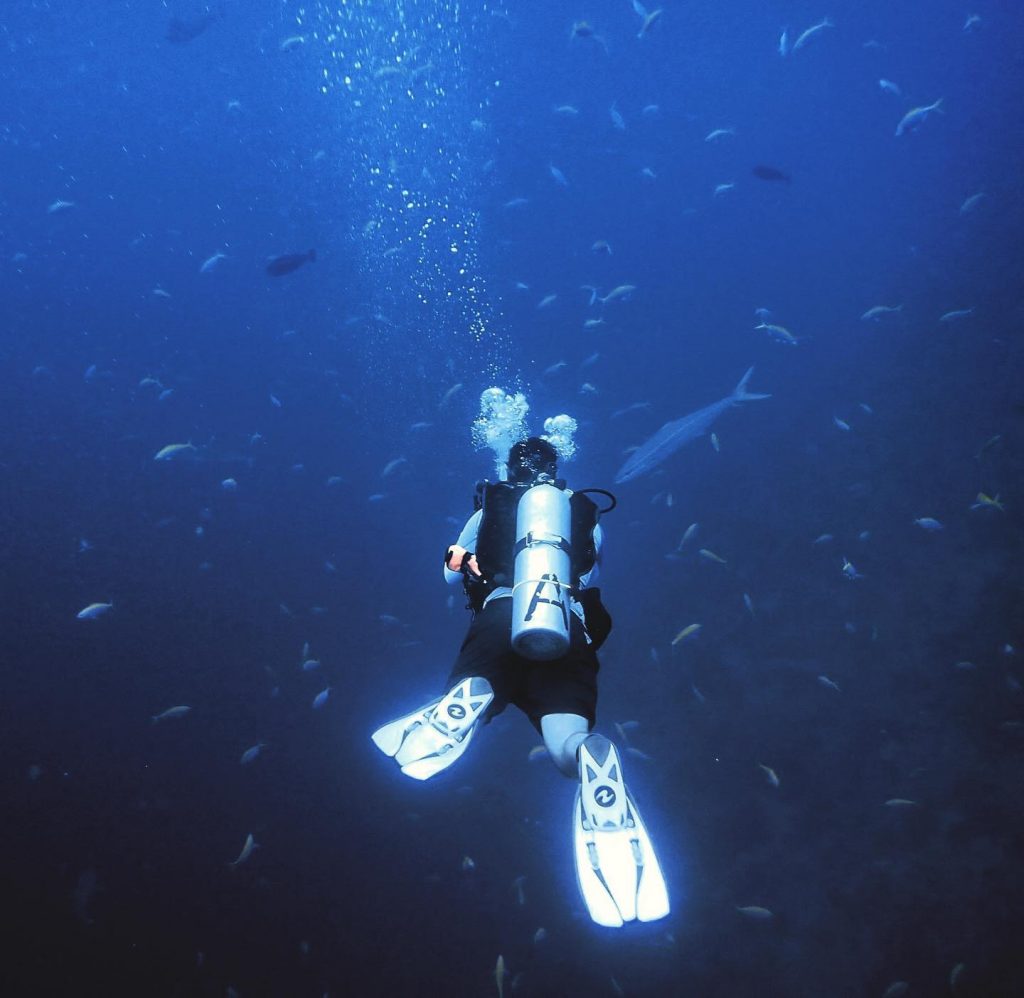 There are a handful of differences from diving in the Caribbean. The current is one of them. Before we jump off the Dhoni, Dive guides Robbie or Ripon will jump in with only fins and check to see if the current is incoming or outgoing. This will determine how your assigned dive guide will approach the dive. At the beginning of the week, the crew will ask your dive experience and assign you to 1 of 4 dive groups and a dive guide (you will of course be with your spouse or travel buddy if you prefer). These guides will do every dive with you for the whole week. I was assigned to be with Audrey. Audrey is a French divemaster and Junior Cruise Director. She was great about giving my group a private dive briefing before we jumped in just so we were all on the same page. Diving with the same dive guide and dive buddies all week let you get very comfortable with their style and preferences. At the end of the dive, during your safety stop, your guide will launch their SMB or Safety Sausage. All four guides have a different color safety sausage which lets the dhoni crew know which group is about to surface.
All divers on the Maldives Aggressor II need to bring a reef hook or borrow one from the crew. Many of the dives are channel dives and many times there will be current. Once you get down to the channel you will hook into rock, not reef (we should change the name to "Rock Hook") and watch the show. At any given time you could see dozens of sharks swimming in the channel and a variety of other fish and creatures. One of my most memorable sightings while hooked in was a Spotted Eagle Ray on the prowl for lunch swimming in a roller coaster fashion, up and down, right in front us!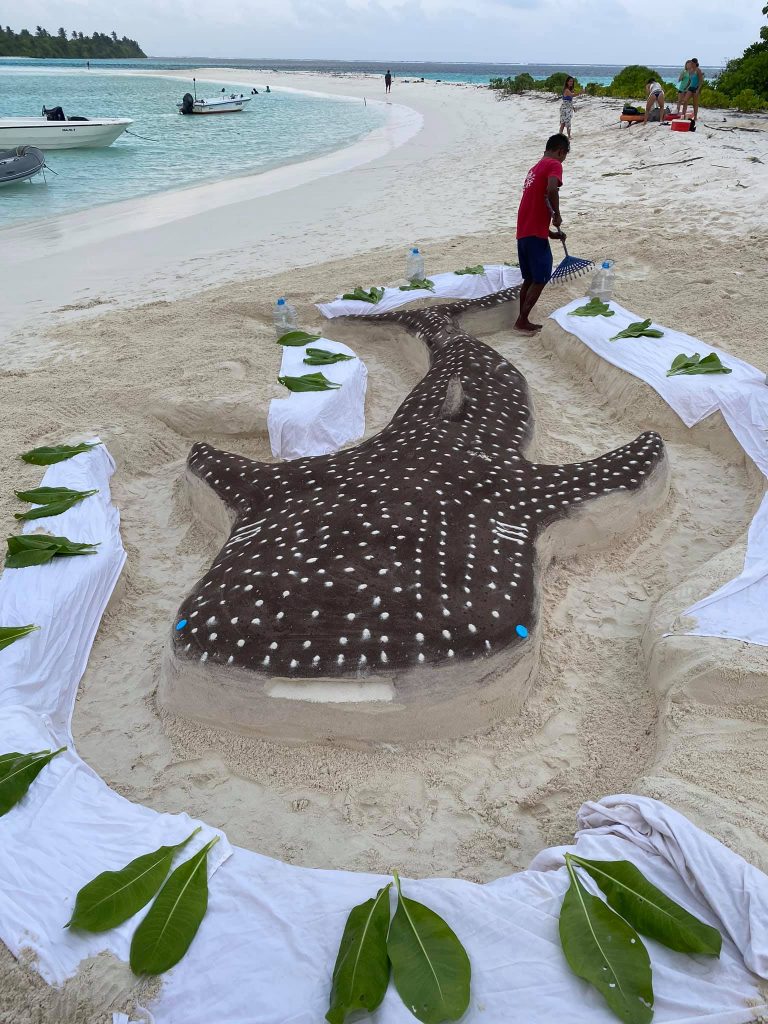 Have you ever seen a more beautiful table!?
One of the coolest experiences of the trip came on land! The crew treated us to a fabulous Beach BBQ with the most beautiful back drop I have ever experienced for a meal! Half of the crew sneak off the MA2 and head to an uninhabited island and start digging to make this beautiful Whale Shark dinner table! We enjoyed some chilled champagne and took plenty of pictures. The crew then invited all guests who were interested in some sand soccer! SO MUCH FUN! I haven't played soccer in maybe 15 years so I was happy to hang with these young bucks! As I huffed and puffed up and down the beach, I couldn't help but thinking this was one of the greatest days of my life. We then gathered around for dinner to share stories of the week so far and what all we were still on the lookout for.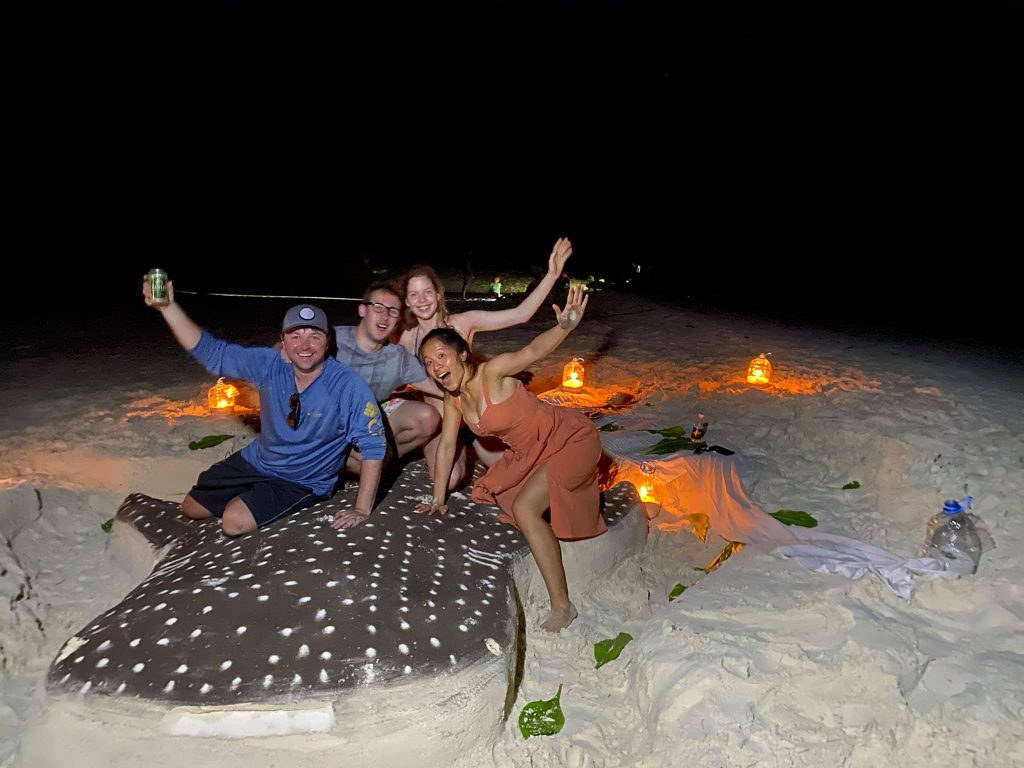 The first skiff left after dinner, and though I was worn out, I decided to take the the late skiff to hang out some more with the customers. We actually had a surprising amount of people my age with seven of us under 40. We spent the evening laughing, listening to music, and chatting. It's always so refreshing to me to learn about people from other parts of the world. This beach BBQ was such a great experience! I bonded with the crew and customers so much this evening and its a day I'll never forget!
Another amazing encounter happened the next day! As we were retuning from a dive on the dhoni, a pod of dolphins came swimming up to the vessel and riding the waves and jumping frequently! What an experience! The sheer excitement of the group was so contagious and euphoric. I'll always remember this. Check out the video HERE!
As you can imagine, I was eager to see my first manta and/or whale shark (real whale shark*). I didn't want to be too greedy asking the dive gods to send me a whale shark as I know some people who have spent 40 years with out seeing one! However, I would be disappointed if I missed out on a Manta as they are very common in the Maldives. Early in the week, Cruise Director, Tony, informed me I had a 99% chance of seeing mantas! I wanted every minute of bottom time possible for this opportunity.
Well the week went by with great channel dives, blue water dives, night dives, shark dives, and even one great Wreck Dive at the British Loyalty Wreck; a 400 ft oil tanker built in 1928 that was sunk after unrecoverable damage taken on by a torpedo; that has actually now made for a great swim-thru on good visibility days! But still no mantas! I was starting to get worried that I might be the 1% that misses the mantas. But I was in luck as our last day of diving would bring the best highlight of any of our dive careers!
Cruise Director Tony & Captain Rauf decided to start our last day of diving at Maa Corner, a manta cleaning station that is on a slope starting at 60' and going down to 85'. The dive guides told us the rules on cleaning station dives; never swim over the station, no touching the mantas or the station, & to keep lights off and make no sound as it may repel the mantas. As we jumped in and swam in the minimal current down towards the cleaning station I was more alert than ever, looking every which way to find a manta.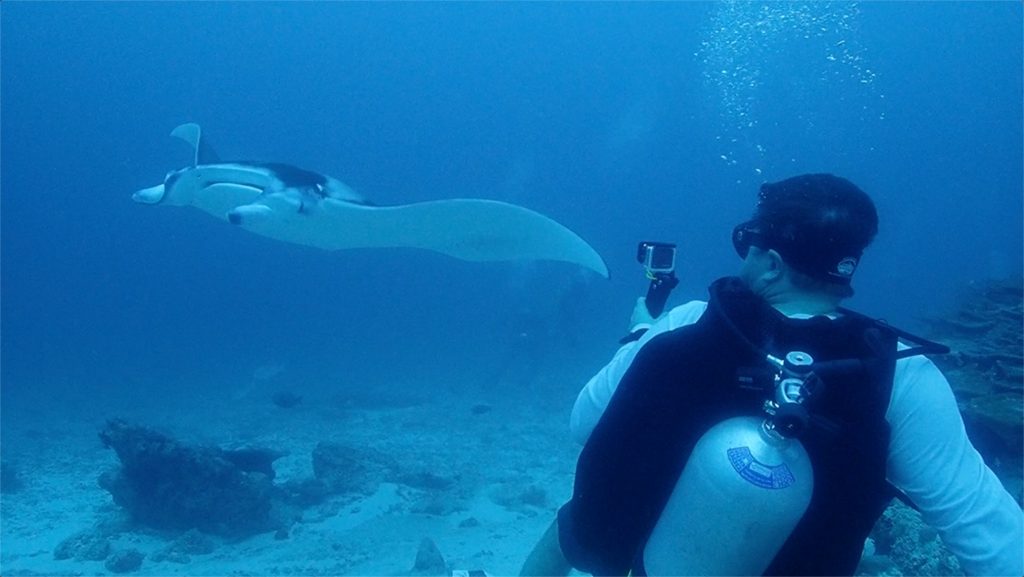 I'm forever grateful to Cruise Director Tony Tomasko for snapping this shot for me!
We got to the cleaning station and hovered, patiently waiting for one. I'm not known for being patient… We wait and wait and then my GoPro shuts off due to inactivity which is on a 20 minute timer. The realization was starting to sink in that this may not be my time. Then finally, I see some excitement from one of the dive groups on the other side of the cleaning station, but we were in a blind spot! O no! I wanted to leave my group so bad but stayed put and Finally! A beautiful 16' wingspan manta with a heart shaped pattern on it's back came up to the top of the cleaning station and hovered right over me! She was so close, I could have touched her. Tony snapped a quick pic which is one of may favorite adventure photos of all time! I got to spend about 15 minutes with this manta ray circling the cleaning station. That Safety Stop was the longest 3 minutes of my life! I couldn't wait to surface and recap with my dive buddies! My soul was so happy! We returned to the MA2 for breakfast and I was already calling this the best dive of my life!
Well, it just so happens that this dive held the "Top Dive" claim for about 2 hours, HA! We went back to Maa Corner for our second dive where we had between 8-10 mantas!!! I couldn't believe it! The current was much much stronger which required us to hook in near the Cleaning Station. We got to sit back and watch the show! We saw mantas almost immediately once we got to the bottom and watched them until the very end of the dive! WHAT AN EXPERIENCE!!! Once surfaced, there were high fives and hugs all around! Many customers claimed this was the best dive of their lives as well!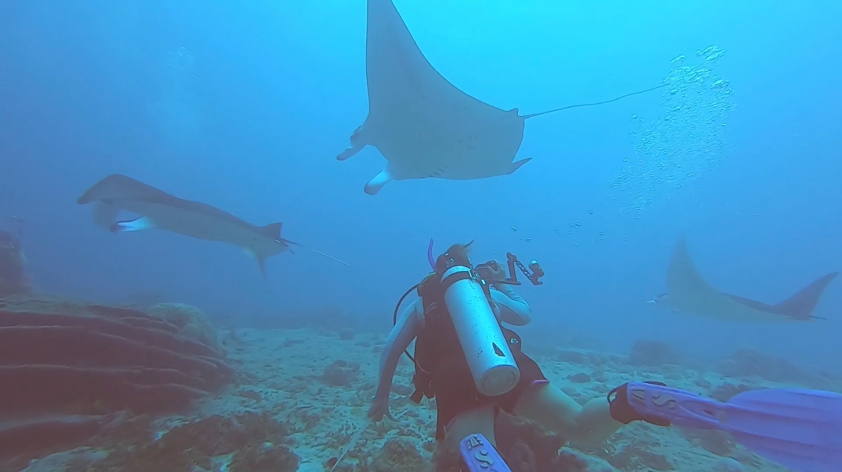 Well the week came and went with all the non-stop action and it was sad to say goodbye to my new friends, both crew members and customers. Everything about this operation was great. The crew took such good care of us! The Stewards (Sultan, Romesh, Alan) kept our rooms tidy, the chefs (Isuru, Kasun) kept our bellys full, the engineers (Wanni & Maddu) kept the boat running perfectly, the guides (Dori, Rippon, Robbie, Audrey) kept us safe underwater, the dhoni crew (Aray, Alam, Shojib) were always so helpful getting launched and back into the boat, and the leadership of Cruise Director Tony, Captain Rauf, and 2nd Captain Hussein made sure we were always having a great time and in the right place at the right time. I couldn't have asked for a better trip! We finished the week off with the cocktail party and the awards were passed out.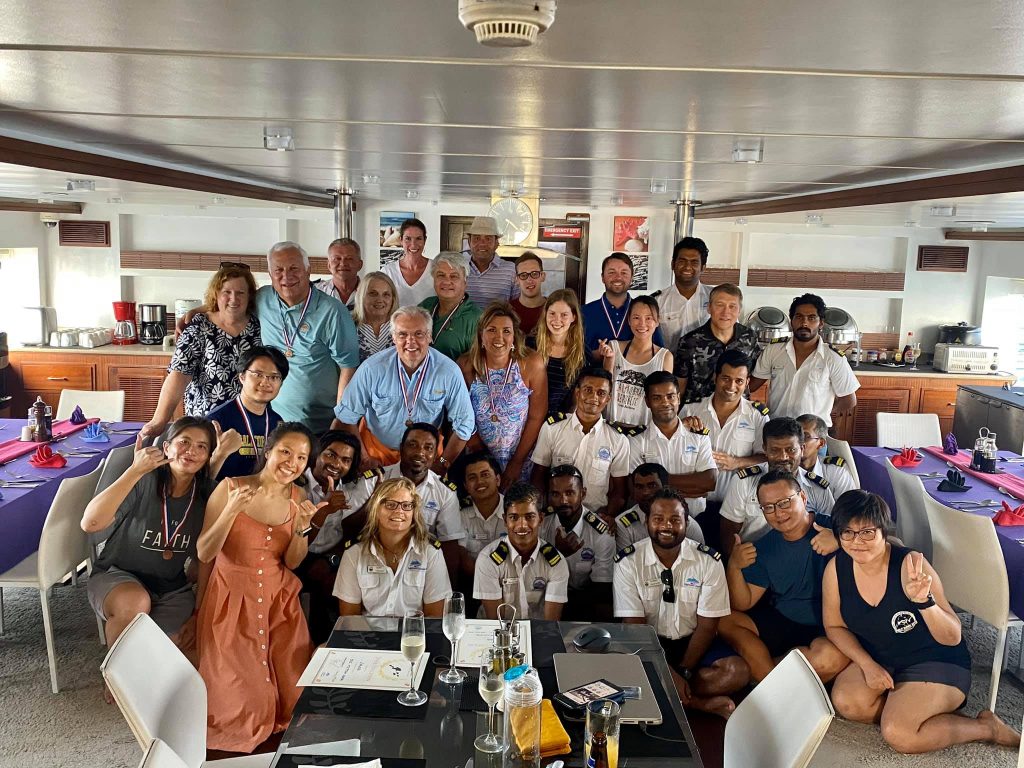 I was happy to take home my 4th Iron Diver Award and experience a real trip of a lifetime! Thank you Aggressor Adventures for this amazing opportunity and experience!
To watch a mashup video of this trip, visit https://vimeo.com/432836146.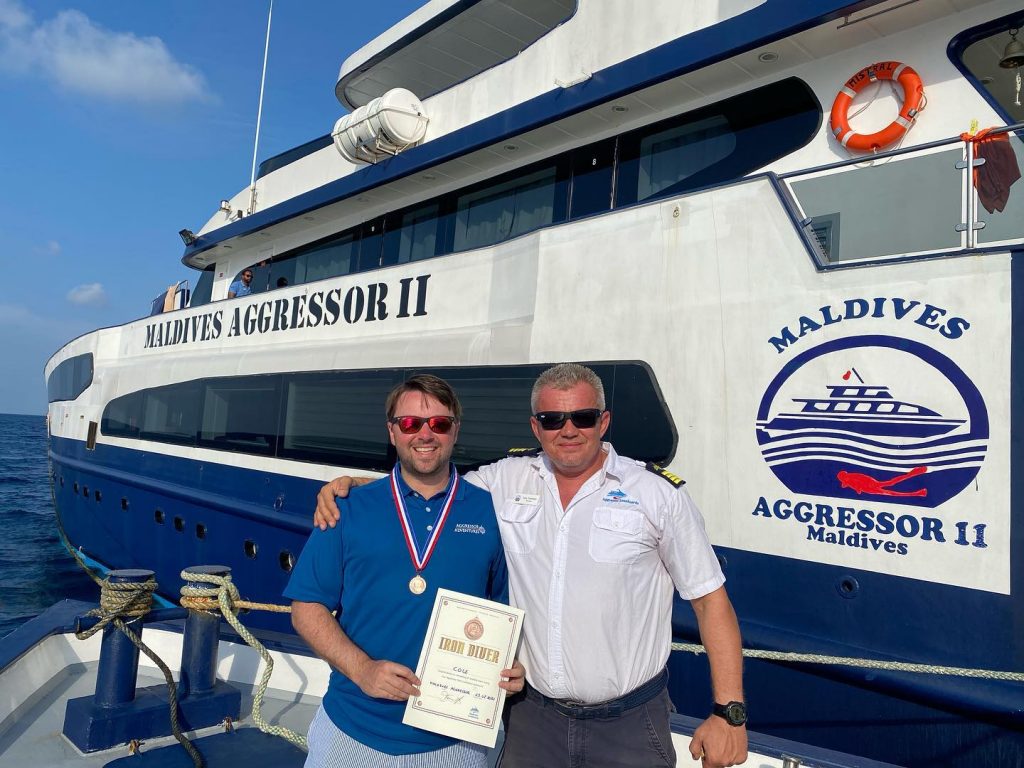 Maldives Aggressor II, February 2020