By: Samantha Whitcraft, Director of Conservation & Outreach, Aggressor Adventures® & Executive Director, Sea of Change Foundation
Divers in-the-know associate epic Caribbean diving and successful conservation efforts with Cuba's Gardens of the Queen National Park for its abundant wildlife and successful management protecting the coastal ecosystem and islands. Now, with the Oceans for Youth Foundation and Aggressor Adventures®, divers can explore yet another of Cuba's protected areas that is also renown ecologically – Ciénaga de Zapata (Zapata Wetlands) which includes the Bay of Pigs.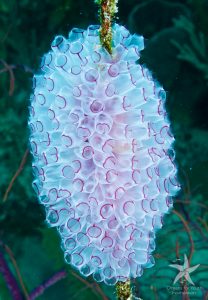 The new seven-night educational program operates around the Zapata peninsula where the Ciénaga de Zapata National Park protects one of the largest and best-preserved wetlands in the Caribbean – the Park's habitats include grasslands, peat marsh, mangrove forests, semi-deciduous forests, evergreen coastal and sub-coastal forests. Additionally, the park is situated on the southern coast of Cuba in Matanzas province surrounded by ocean waters and lagoons rich with corals and abundant marine life. In 2000, this immense wetland was designated a UNESCO Biosphere Reserve. The network of 173 reserves around the world are part of UNESCO's Man and the Biosphere Programme that promotes a sustainable connection between people and nature. These reserves, including Zapata, are also recognized internationally by scientists and conservationists as "learning places for sustainable development" including sustainable tourism like scuba diving.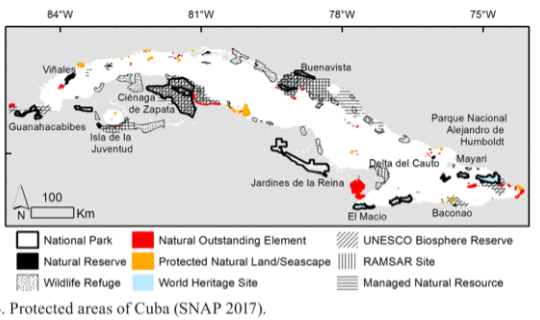 Covering 625,354 hectares, the immense Zapata Biosphere Reserve provides important habitat for critically endangered Cuban crocodiles (Cocodrilus rhombifer), the American crocodile (C. acutus), manatees, and many migrating bird species including flamingos (Phoenicopterus ruber). Because the biosphere reserve covers the entire watershed and associated coastal areas, all long-term objectives for conservation and sustainable land-use practices are being considered in local decision-making. The fact that the entire watershed is managed as a whole, from inland forests to coastal wetlands and out to the reefs is a true conservation win because critically important biological connectivity is maintained. The wetlands also provide natural filtration from land-based run-off helping to keep coastal waters clean and healthy. Studies suggest that when this happens, mangroves, seagrass beds, and reefs may support more fishes and other marine life.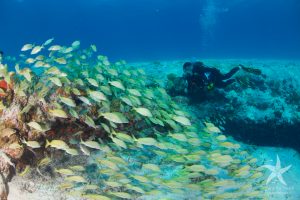 Zapata's designation as one of Cuba's nine beautiful national parks is also significant. In fact, the protection of national parks is enshrined in Cuba's constitution. The Parque Nacional Ciénaga de Zapata is similar to the Everglades National Park, Florida in scope and biological diversity. However, the Zapata National Park protects Cuban endemic species – those found nowhere else – such as the bee hummingbird (Mellisuga helenae) and the Zapata sparrow (Torreornis inexpectata).
The recreational diving area around the Zapata Peninsula is characterized by a variety of habitats. Of special interest to history buffs and avid divers alike is the Bay of Pigs (Bahía de Cochino), adjacent to the peninsula. The bay is named for a species of trigger fish found there and is known for its clear waters and intricate bathymetry including tunnels, caves, and cenotes. Swaying, soft corals dominate much of the white sandy substrate along with many intricate coral heads and even a few historic wrecks. Critically important black sea urchins (Diadema antillarum) provide grazing that keeps algae from outcompeting corals for habitat – a strong indicator of ecosystem health.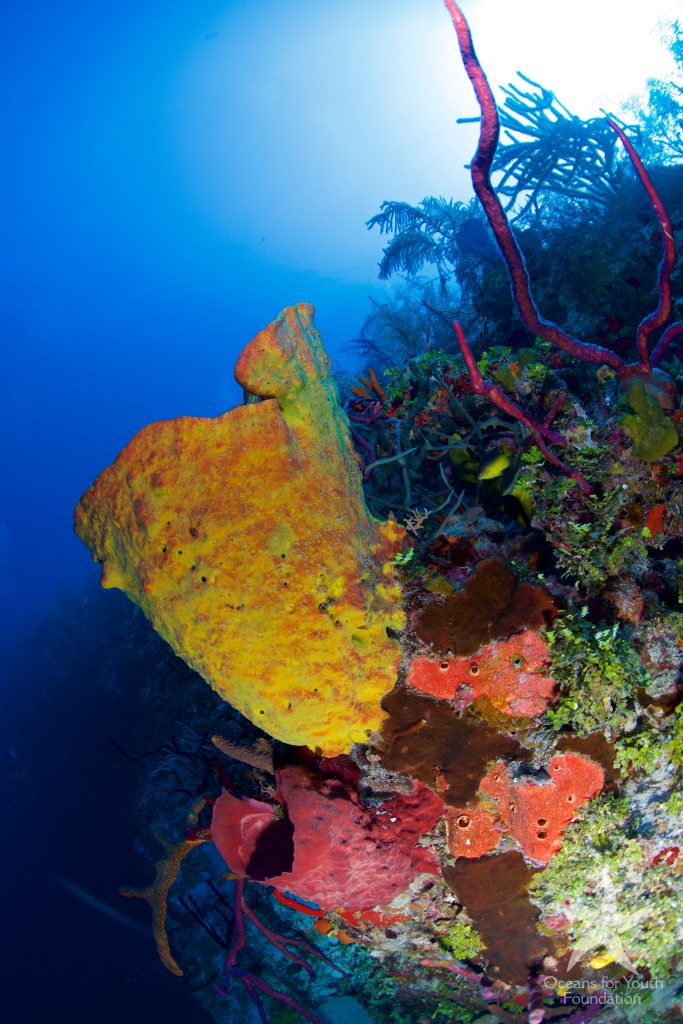 And now divers will have unprecedented access to explore and learn about the amazing Zapata ecosystem with the Oceans for Youth Foundation's authorized People-to-People Group Travel Program. Divers will explore the abundant waters surrounding the Zapata Peninsula aboard the 110-foot, 20-passenger JARDINES AGGRESSOR IITM. Throughout the week, Cuban marine biologists will host presentations about this protected marine environment, local conservation efforts, and the ecological importance of this magnificent ecosystem.